"A snowball in the face is surely the perfect beginning to a lasting friendship."
― Markus Zusak, The Book Thief
It is 1939. Nazi Germany. The country is holding its breath. Death has never been busier, and will be busier still.

By her brother's graveside, Liesel's life is changed when she picks up a single object, partially hidden in the snow. It is The Gravedigger's Handbook, left behind there by accident, and it is her first act of book thievery. So begins a love affair with books and words, as Liesel, with the help of her accordian-playing foster father, learns to read. Soon she is stealing books from Nazi book-burnings, the mayor's wife's library, wherever there are books to be found.

But these are dangerous times. When Liesel's foster family hides a Jew in their basement, Liesel's world is both opened up, and closed down.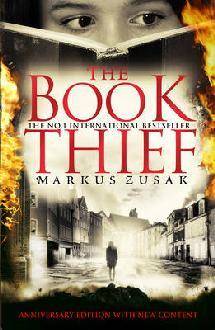 This week in our summer recommendation reads segment we have something for our teenage and their parents' audience. This book offers a few more pages to read than our previous recommendations but with a drop of fascinating history, a more complexed but exciting plot and a great amount of enchantment, you wont be long turning the pages of this book. The Book Thief by Markus Zusak is a novel that should be read by the masses and owned by all.
"I have to say that although it broke my heart, I was, and still am, glad I was there."
If we could describe this book in three words, they would be powerful, touching, and simply a masterpiece. No wonder it was recreated as a movie- this story needs to be told in any way the receiver can get it like a voice that needs to be heard, like a tale that needs to be passed over and over to other generations, like a treasure that maps need to be created in order to discover. Once you get into it, you won't be able to get out. You will fall in love with words that were painted by the talented author Markus Zusak.
You can now get your copy of The Book Thief with two different cover designs!