"And one day she discovered that she was fierce, and strong, and full of fire, and that not even she could hold herself back because her passion burned brighter than her fears."
– Mark Anthony
*Blackwell's Book of the Year*
*Foyles Children's Book of the Year*
*Shortlisted for Waterstones Book of the Year* *Schoolbooks.ie Book Recommendation List*
What if the princess didn't marry Prince Charming but instead went on to be an astronaut? What if the jealous step sisters were supportive and kind? And what if the queen was the one really in charge of the kingdom? Illustrated by sixty female artists from every corner of the globe, Good Night Stories for Rebel Girls introduces us to one hundred remarkable women and their extraordinary lives, from Ada Lovelace to Malala, Amelia Earhart to Michelle Obama. Empowering, moving and inspirational, these are true fairy tales for heroines who definitely don't need rescuing.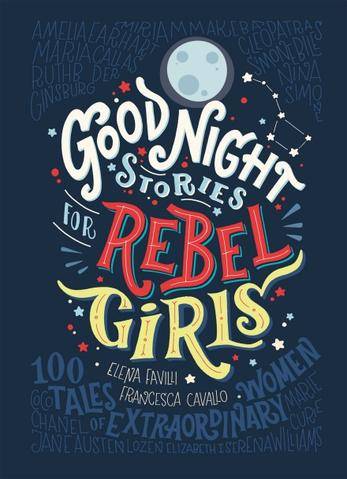 Here at Schoolbooks.ie, we believe that it is important to read to children, stories that will teach the value of self-growth, knowledge, kindness, and self-confidence.
How to be strong, how to be creative, kind and simply how to motivate oneself to not be afraid to be extraordinary - these are the stories that will have the greatest impact on a person. The Good Night Stories For Rebel Girls is that kind of a book. We would, however, recommend this beautiful set of stories not only for young girls but also for boys. Why shouldn't everyone read about such inspirational icons we have pictured in this book?
This collection of stories is creatively written and accompanied by a gorgeous set of illustrations. Each story is dedicated to one out of a hundred women who can be role models to children and adults. The women come from different times, social backgrounds and cultures, but such a great mix only makes this book more exciting and fascinating. Having such a high diversity of tales, anyone will find a story they could identify themselves with, creating a personal connection to these incredible iconic women.
The word 'rebel' was always associated with bad behaviour - normally associated with going against the rules, but this book shows us that sometimes being rebellious also means being fabulous. The simple message of not being afraid to stand out and to be creative, could empower many young minds, with the possibility of igniting great ideas and inventions that might one day, change our world.
Make the 'Read-Out-Loud' evenings even more special with your copy of Good Night Stories For Rebel Girls, now on sale!