"He couldn't know that at this very moment, people meeting up in secret all over the country were holding up their glasses and saying in hushed voices: 'To Harry Potter - the boy who lived!"
-J K Rowling, Harry Potter & Philosopher's Stone
Harry Potter has no idea how famous he is. That's because he's being raised by his miserable aunt and uncle who are terrified Harry will learn that he's really a wizard, just as his parents were. But everything changes when Harry is summoned to attend an infamous school for wizards, and he begins to discover some clues about his illustrious birthright.
From the surprising way he is greeted by a lovable giant, to the unique curriculum and colorful faculty at his unusual school, Harry finds himself drawn deep inside a mystical world he never knew existed and closer to his own noble destiny.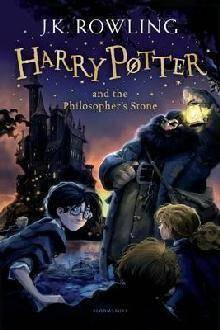 There are books that, as readers, we wish we were able to read for the very first time once more. Harry Potter is one of them. Pure magic that transfers a reader from a dull, grey day into the world of fantastic beasts, adventure, and friendships like no others out there. Get ready for a journey this beautiful series takes us on!
Harry Potter and the Philosopher's Stone by J.K. Rowling is the first book in a series of fantasy novels about the exploits of wizards in a hidden magical dimension in England. Harry, an 11-year-old boy, is living an almost ordinary life with his aunt, uncle and nasty cousin Dudley, when on his birthday, he receives a letter of acceptance to Hogwarts- School of Witchcraft and Wizardry. Harry begins an adventure of a lifetime, discovering a hidden world of magic.
This beautiful novel is not only about spells and wands but also about the gift of true friendship that can survive even the biggest challenges. It's a book about fighting evil with goodness and doing the honourable thing. It teaches the value of helping others and that with the right companions, you can overcome any obstacles that life throws at you. It's a great story that quickly became a classic of modern times.
You can now get your copy of Harry Potter and Philosopher's Stone by J.K. Rowling at Schoolbooks.ie!
This week's offer - 20% off!