"When in doubt, go to the library."
― J.K. Rowling, Harry Potter and the Chamber of Secrets
The Dursleys were so mean and hideous that summer that all Harry Potter wanted was to get back to the Hogwarts School for Witchcraft and Wizardry. But just as he's packing his bags, Harry receives a warning from a strange, impish creature named Dobby who says that if Harry Potter returns to Hogwarts, disaster will strike

And strike it does. For in Harry's second year at Hogwarts, fresh torments and horrors arise, including an outrageously stuck-up new professor, Gilderoy Lockhart, a spirit named Moaning Myrtle who haunts the girls' bathroom, and the unwanted attentions of Ron Weasley's younger sister, Ginny.

It's going to be a year full of secrets...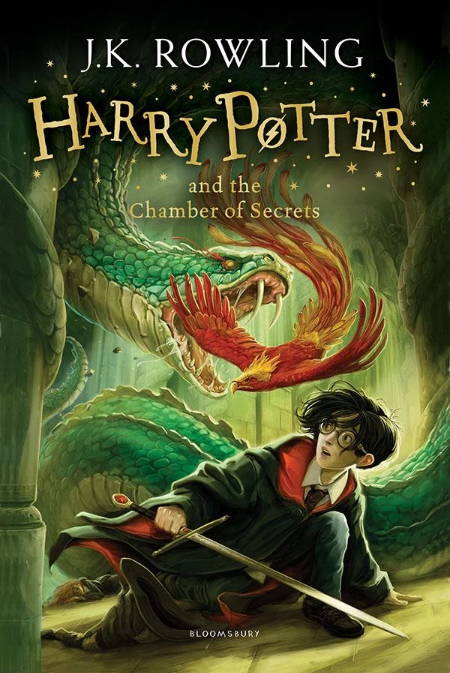 With J. K. Rowling's birthday this week, we couldn't have not recommended her second book, from the world-known series, Harry Potter and the Chamber of Secrets. Once again, this fantastic author brings her readers into a world of magic, intrigue, and incredible adventures.
It's the second year at Hogwarts for Harry and his friends Ron and Hermione, but nothing seems to be working out for them from the very beginning... After the horrendous summer at Harry's uncle and aunt's house, the young wizard gets an odd warning from a strange creature named Dobby, not to come back for his second year at Hogwarts. What is the dark secret that Dobby can't tell and why is everything so against Harry going back to school?
"Oh well... I'd just been thinking, if you had died, you'd have been welcome to share my toilet."
If you fancy a mystery entangled with magic spells, this book is just right for you! It will not only entertain you but will also make you want to read the rest of the series without delay. Yes, that's thousands and thousands of pages, but don't worry, you will treasure every single one of them.
In each new book of the Harry Potter series, the story-telling gets better, and J.K. Rowling's writing techniques from the Philosopher's Stone become more adventurous. Rowling is not afraid to dig deeper, creating a second dimension to the stories, one that not only focuses on action but also on the emotion of the heroes and heroines. Let us assure you - it only gets better with each book!
Get a chance to expand your home library and save at the same time! All Harry Potter books are now up to 30% off! CLICK HERE to shop!